Simple and yet not easy - GFK-Vertiefungsworkshop online

Zeit:

16. + 17. Oktober 2021
20. + 21. November 2021

Ort:

Online-Workshop, Zoom-Link wird nach Anmeldung zugesandt!
Keys to enjoy your own powerful voice and contribute to empathic dialogue
2 GFK-Vertiefungswochenenden- 4 Trainingstage in einer gleichbleibenden Gruppe
Zu diesem GFK-Vertiefungsworkshop sind alle willkommen, die bereits GFK kennengelernt haben und mit Unterstützung weiterüben möchten.
Vielen von uns fällt es leicht, die GFK-Prinzipien intellektuell zu verstehen - und schwer, sie in herausfordernden Alltagssituationen umzusetzen. Daher wird der Fokus des Workshops auf praktischer Übung liegen und darauf, deine eigenen Worte für respektvollen Dialog zu finden, in dem du eine Balance zwischen deinen Bedürfnissen und den Bedürfnissen anderer Personen findest.
Wir laden dich ein, GFK als einen Weg zur Erschließung deiner eigenen unbegrenzten Ressourcen von Verbindung und Resilienz zu erleben.
Voraussetzung für die Teilnahme: min. 2 GFK-Trainingstage
Teil 1 - 16/17. Oktober 2021
Speaking from self-connection
Themes for attention and practice
thankfulness as key inspiration
stretch your ability to be honest
finding empowerment through your self-empathy
allow your anger to connect you with empathic power
trigger awareness and management
Teil 2 - 20./21. November 2021
Empathic dialogue – mutuality in action
Themes for attention and practice
practice to hear the beauty present in all human messages (when you are accused, when someone is angry, when someone says "no")
prepare yourself for an important conversation
acting from mutuality - what does it mean?
making inclusive requests
interrupting with grace
We strive with this hands-on practice for you to gain fluency in the 3 possibilities for connection – self-empathy, honesty, empathic listening. We will use visfera materials to make the training clear and with variation.
Our dream is for people to be aware and have skills to contribute to empathic dialogue – the dance of connection. We will take participants' requests into account. You are welcome to come dance with us!
Zeiten: 9:30-11, 11:30-13:00, 14-16 (inkl. jeweils einer kurzen Pause)
Zoom: Wir senden den Link am Tag vor dem Training zu
Beitrag: € 400 - 850,-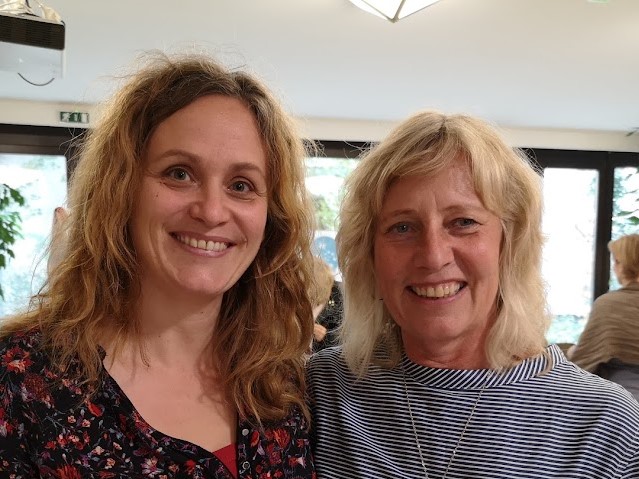 Sprache: Englisch (Kleingruppenarbeit auf Deutsch und Englisch)
Information und Anmeldung: Diese E-Mail-Adresse ist vor Spambots geschützt! Zur Anzeige muss JavaScript eingeschaltet sein!
TN-Zahl: 15-24
Voraussetzung: min 2 Tage GFK-Training
Trainerinnen:
Marianne Göthlin, has been practicing and integrating NVC since long and was certified as trainer 1998. Marianne is sharing NVC internationally, is passionate about the mutual process of "living NVC", and has served as a trainer on IITs together with Marshall Rosenberg. Her engagement now along with offering training and long-term transformative projects, is to provide clear and practical NVC materials to support people in practicing NVC more with ease and joy. www.skolande.se
Gabriele Grunt has been working as a trainer with children and adults in various fields for more than 30 years. In her work she enjoys exploring different ways of reaching people, learning and working together – focusing not only on individual learning but on how to enable each of us to transform the structures we live in and that do not serve us towards lived partnership, shared power, new ways of leadership and a more satisfying quality of connection